New BRIGHTENING SERUM SUPREME
BRILLIANT SKINCARE. SUPREME RESULTS.
Reduces dark spots and brightens tone
to reveal radiant skin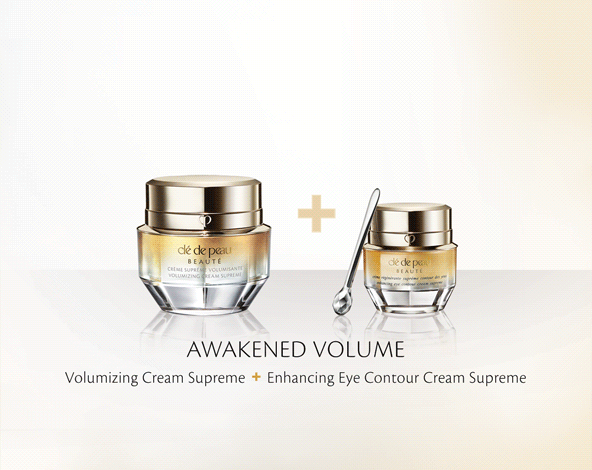 Through relentless research, Clé de Peau Beauté has developed a superior line of skincare products that provide dermatologist-inspired anti-aging results at home. A daily regimen of our Supreme serums, creams, and eye creams can replenish and moisturize your skin to revive radiance and reveal youthful contours.
For targeted eye care, look to our bestselling Enhancing Eye Contour Cream Supreme.The refined essence of Iris Extract helps skin appear plump and firm from within. This skin tightening cream comes with a small massaging tool that you can use to gently roll the cream around the contours of your eyes. The cooling platinum coated massage tool is weighted to ensure the ideal gentle pressure for the delicate eye area.
Firming Serum Supreme is one of the most advanced products to target aging skin. This serum lifts and tightens from every angle to create a smooth, supple appearance. Botanical extracts like raspberry and licorice root are combined with luxurious extracts like Japanese pearl shell to restore your skin's natural radiance. Wrinkle Smoothing Serum Supreme is another favorite from the Supreme Collection. Made with retinol, this serum helps correct the appearance of deep-set wrinkles with the added power of Platinum Golden Silk, theanine, and Japanese pearl to soothe dry, aging skin. Apply it to your face in the mornings or make it part of your nightly regimen to enjoy long-lasting benefits. This product pairs perfectly with lotions, creams and other products in the Supreme skincare collection.
Achieve lifted and plump-looking skin with our Volumizing Cream Supreme. This advanced formula is based on the latest breakthroughs in anti-aging science and ingredients. A combination of watercress and houttuynia cordata extracts work together to bring out the plumpness in your cheeks. Make this volumizing cream part of your daily ritual to enjoy 24-hour hydration and plumpness.